Promotional Gift Candles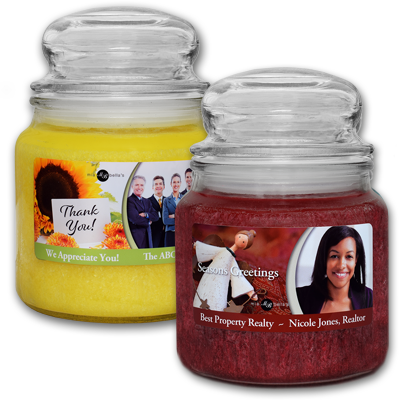 Tired of the same old gifts? Instead of a bottle of wine, why not give out a Mia Bella Gourmet Scented candle with YOUR information right on the label? This is the way to show your friends, customers, or prospects that you care to give them only the best!
You will have the opportunity to choose from one of our standard label designs for your promotional gift candle, or you may choose to provide your organization's logo or any desired image to be reproduced on the jar's label. Any custom images must be at least 300dpi and of sufficient size and quality for printing. The background for the logo will be color matched by our printer to ensure the best look based on your image's colors.
There is a minimum initial order quantity of 12 for custom orders. Add-on orders can be for any additional quantity.
You may choose any fragrance of candle you wish to go along with your custom label. To view the colors of our candles, please review them in the Products section. This will help you design the most eye-catching product and a color of candle that will compliment your logo or image. Of course, this is entirely optional and up to you! MSRP $23.95 - 16oz. / $15.95 - 9oz.