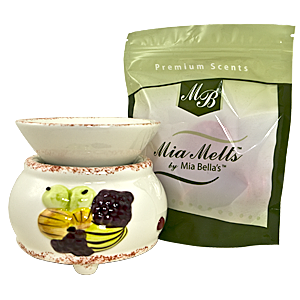 Every entry will receive a copy of our free guide, "Secrets Of Candle-Burning Success". This guide was put together by our Master Candlemaker, Carmen Milazzo so that you can burn your candles safely and efficiently. A link to download this guide will be provided once your entry is submitted.

Weekly drawing is for (1) FREE Scent-Simmer Pot and (1) FREE bag of Mia Bella's Mia Melts*. These highly fragrant wax melts / wax tarts smell incredible and will fill your home or office with powerful, realistic fragrances.

Winners are chosen every Monday. You have to enter to win!
Note: Drawing is not open to Scent-Sations's distributors.
This Week's Winner: Julie Sanchez
Previous Contest Winners
Lisa Thoman
Paul Courchene
Mary Murphy
Paul Davis
Mallory Shelley
Elizabeth Crego
Andrea Clifton
Ericka Gardiner
Dawn Aston
Rebecca Gosart
Cole Mckinnon
Judith Cort
Enter Your Information Below To Get Your Free Guide Plus A Chance To Be Next Week's Winner! Check Off All Areas That You Are Interested In Learning More About!