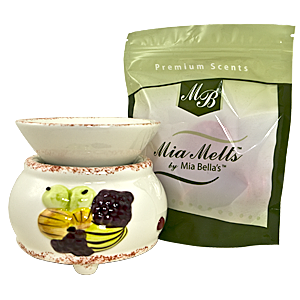 Every entry will receive a copy of our free guide, "Secrets Of Candle-Burning Success". This guide was put together by our Master Candlemaker, Carmen Milazzo so that you can burn your candles safely and efficiently. A link to download this guide will be provided once your entry is submitted.

Weekly drawing is for (1) FREE Scent-Simmer Pot and (1) FREE bag of Mia Bella's Mia Melts*. These highly fragrant wax melts / wax tarts smell incredible and will fill your home or office with powerful, realistic fragrances.

Winners are chosen every Monday. You have to enter to win!
Note: Drawing is not open to Scent-Sations's distributors.
This Week's Winner: Katie Knoll
Previous Contest Winners
Renee Grandinetti
Kathleen Johnson
Tammy Hankins
Jennylyn Gross
Lisa Davis
Susan Robinson
Susan Kapp
Jacqueline Wortman
Mary Graves
Paul Chevalier
Torrie Majeski
Amy Greenwood
Enter Your Information Below To Get Your Free Guide Plus A Chance To Be Next Week's Winner! Check Off All Areas That You Are Interested In Learning More About!