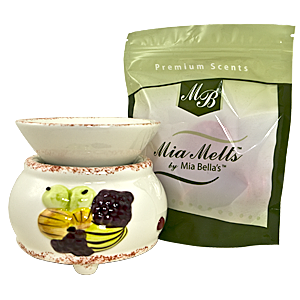 Weekly drawing is for (1)free Scent-Simmer Pot and (1)bag of Mia Bella's Mia Melts*. These highly fragrant wax melts / wax tarts smell incredible and will fill your home or office with powerful, realistic fragrances. Winning entries will be picked every Monday. You have to enter to win!
Drawing is not open to Scent-Sations's distributors.
This Week's Winner: Melody Gordon
Previous Contest Winners
Jamie Williams
Kathryn Cort
Wayne Poole
Joseph Walz
Lori Charbeneau
Donna Clifford
Sandra Wilhoite
Gilma Acevedo
Molly Brown
Gloria Vernon
Cassie Weeman
Cindy Hoover
Enter Your Information Below for a Chance to Be Next Week's Winner!