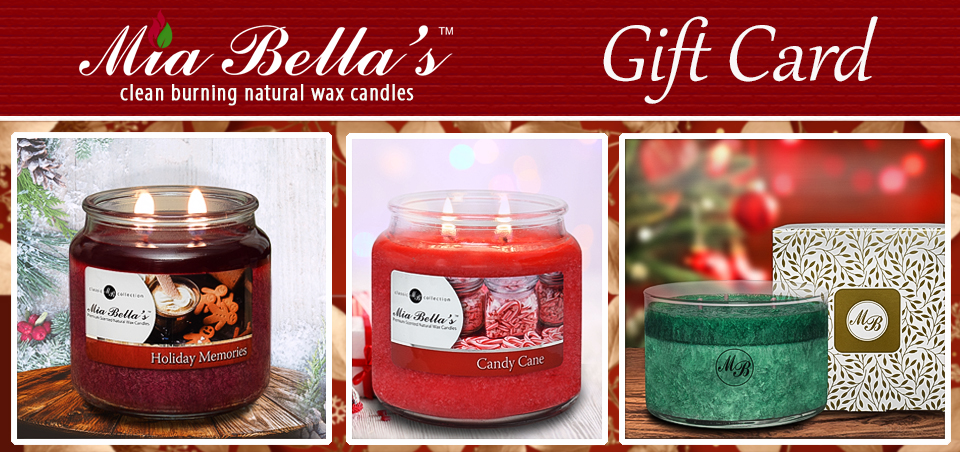 Give the gift of
Mia Bella's

for any special occasion!

You are now able to buy gift cards for your friends, family, co-workers, boss, employees, customers or anyone to buy their favorite products from Scent-Sations.
What amounts are they available in?
Gift cards are available in $10, $25, $50 and $100 denominations and can be used just like any other form of payment when purchasing products.
How can I send them?
Gift cards can be emailed to your recipients or you can choose to have them emailed to you and then sent out to the person or persons who you are purchasing for. Once purchased, the gift card number(s) and security PIN(s) will be displayed on your computer screen to be printed as well as emailed to the designated recipient(s).
Please make note of this information for your records upon purchase in the event that the email cannot be delivered!
Am I able to check the balance on my gift card?
You will be able to look up the amount left on the gift card by entering the number into an online tool that will determine whether or not the gift card has a balance left on it.
How does it work?
You buy gift cards just like any other product. They can be added to your shopping cart with or without other items. If purchased separately, there will be no shipping or tax added since there is no physical product being purchased. If you purchase them with physical products, then the appropriate tax and shipping will be charged for the physical products in your cart only. Once the gift card is redeemed, shipping and tax will be charged on the products being purchased with the gift card.
Do the gift cards expire?
Since gift cards are just like cash, there is NO expiration date on them! However, we know that those people who get them will want to spend them on all their favorite Scent-Sations' products right away!